11 march 2005

Richard Gere already arrived
There were al a lot of camerapeople, photographers and journalists this afternoon walking by our house. We saw a wellknown female journalist from the news who had parked her car in front of our house. She took the time to let herself photographed with her mini-car. Then she took of with the cameraman to the cityhall in front of our house. Later that afternoon Jaco run upstairs to me to tell me that Ivo Niehe, a famous tv presenter in Holland, just walked by his officewindow (which is downstairs in our house). He walked to the entrance of the public garage which is next to our house. His talkshow is running on tv now for about 25 years. It seemed that Richard Gere had already arrived in our town this afternoon so we saw on the news. He gave a press conference. In fact the pers conference was a few meters from me and I didn't even noticed he was already there. Tomorrow the Geuzenpenning will be given to him officially.
Rai is learning fast how to be a webdesigner like me. She wants me to teach her and she does very well. Although soon she will need a faster computer also because this one is working to slow.


10 march 2005

"mother and daughter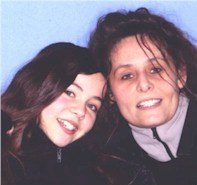 This picture is taken last saturday at the open day of the new (high)school Rai is going to.
Pretty looking duo don't you think?












9 march 2005

"baby at twelve?"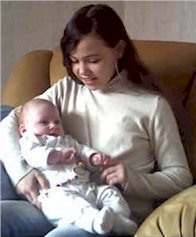 The day started at 07:20 when Rajacenna came to sit down on my bed. She said: "when I was little I never wanted to have babies........but now I like them very much!" Well goodmorning to you too. "Well" I said "you have a free midday from school, then we are going to buy one this afternoon!". At that moment we did'nt know yet that her little cousin Jordan (3 months) was coming this afternoon. How lucky she was. Rai liked it very much to hold her and to feel her tiny little fingers.






8 march 2005

"preparations Richard Gere"
The snow is all gone and our parc looks green again. I'd rather saw it a little bit longer covered with snow. In front of our house they had been made some preparations for Saturday when Richard Gere has to receive the "geuzenpenning" at the cityhall. Last year we had our Princess Maxima coming to our town and in the past we had our queen too. Last year there had come a lot of people to the cityhall and there were all kinds of photographers of the wellknown dutch magazines parking in front of our door. So I guess with Richard Gere coming I think there will be a lot more people coming to watch. Although you never know if he cancells at the last minute but I don't think that.
Rajacenna's went to the dentist because for the last year and a half there had been stuck an old tooth in her mouth that didn't wanted to come out. It was stuck betwee two new ones but finally now it's out!

7 march 2005

"Teachers advice"
One week before you go register your child at a new school you are getting the "advice" of the teacher. Well nothing new the advice is exactly the same as we thought and if that was not the case we still would have stuck to our own thoughts about Highschool choice.