12 June 2005

"Our Famcam" at number
1
in BNN's Top40 Weblogs!!
We made it! Thanks to everyone who voted for us in the BNN's Blog40 we are at number 1 today. We hope you will help us staying at least in the top 10.
comments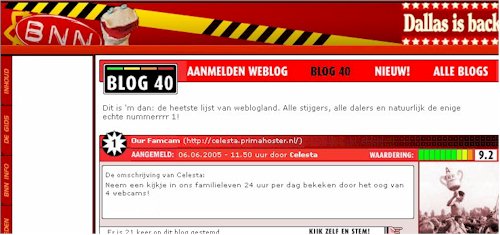 10 June 2005

back home
Finally Rai came back home today after a week Belgium with her class. She had a great time and they did visit a lot of ancient parts of Chevetogne. They even got dropped in the middle of the night and had to find their way home alone. Which I find highly inpropriate in the land of Mister Dutroux!! Well they all got lost in the middle of the night in the dark woods. They all were in panic. Rai was very scary but managed to stay cool and leaded her group to the campus again. Another group was lost untill two at night! The whole class was very angry and Rai said to the teachers: "every year you know that this is very dangerous for children and they don't like it too so why do you keep on doing droppings?". Everywhere there are pedofiles nowadays they even come to watch our webcams!
comments